WHAT IS BRAZILIAN
JIU-JITSU?
A foundational art of the sport of Mixed Martial Arts and the U.S. Army's Modern Army Combatives program, Brazilian Jiu Jitsu is a fun, practical, and increasingly popular martial art. A submission grappling art, Brazilian Jiu Jitsu focuses on taking an opponent down and then using ground grappling to dominate and then submit an attacker with a choke hold or joint lock.
Brazilian Jiu Jitsu is an excellent complement for anyone with Judo or Wrestling experience, but is also perfect for the a complete newcomer to submission grappling it teaches universal grappling skills that transfer very well to other disciplines. BJJ is offered for both children and adults and is one of the most popular martial arts for adults to participate in.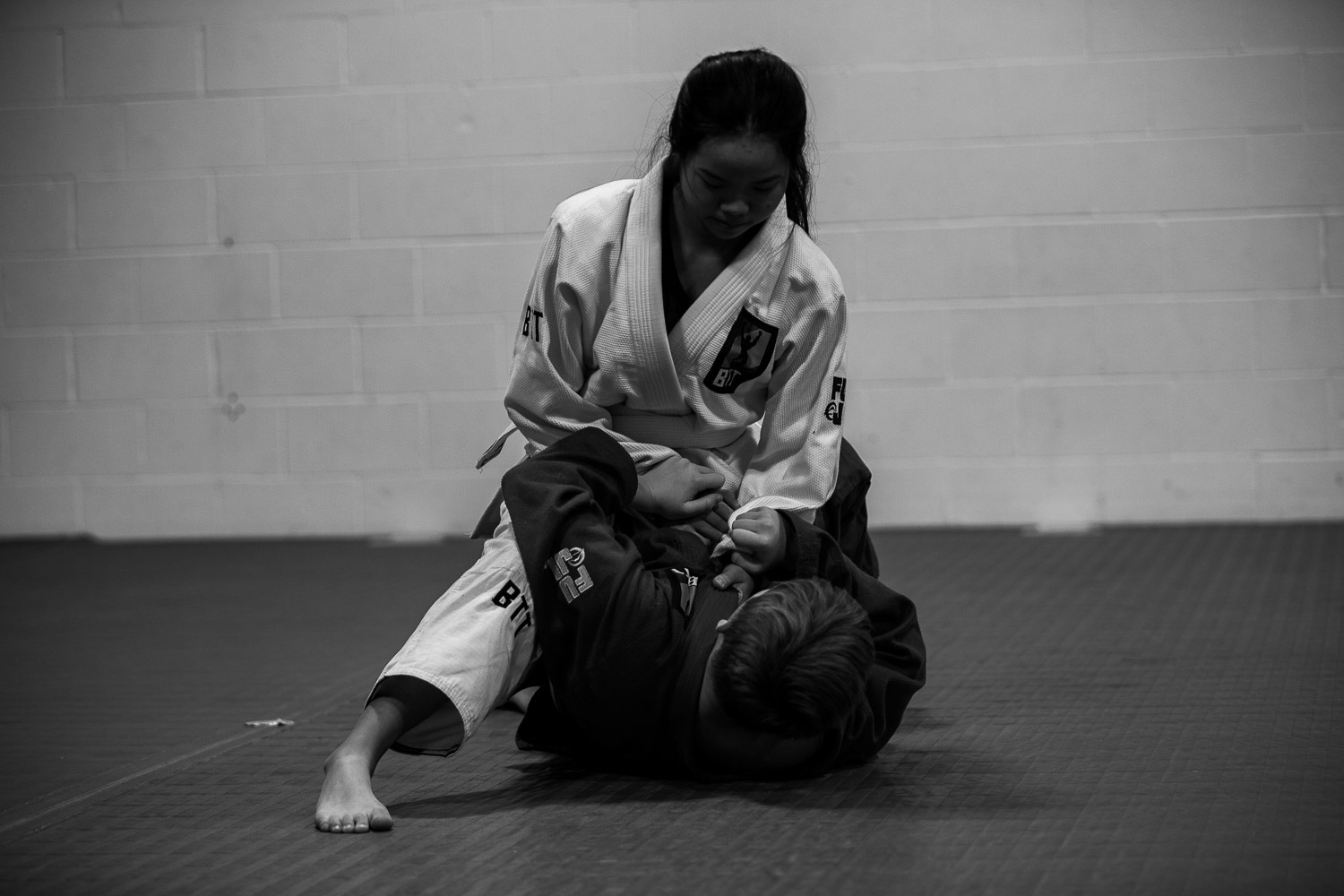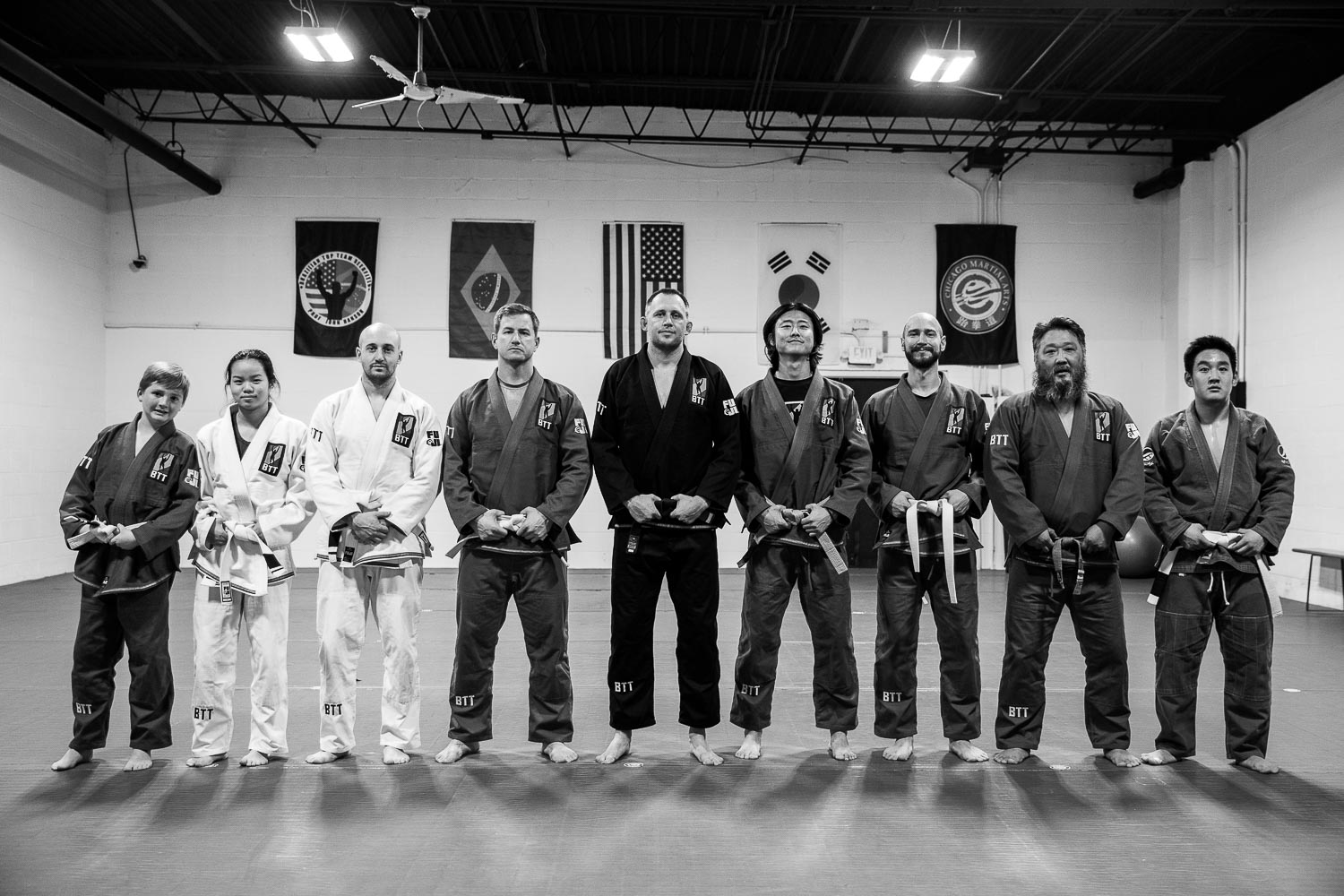 BRAZILIAN JIU-JITSU 
CLASSES OFFERED
Fundamentals: A class for both beginners and advance students covering the most used and practical techniques with an eye towards self-defense situations. In this class students will learn some basic striking and distance control on the feet, and how to take down an aggressor down to the ground. On the mat students learn different ways to control their opponent in addition to different transitions and submissions they can use to defeat an attacker.
Every fundamentals class involves a warm up, lessons were students are taught techniques and then engage in light drilling. After learn two to three techniques students are then lead through a limited sparring session where they can apply the techniques they learned against a resisting opponent.
Advanced: This class focuses on preparing students for the vibrant and quickly growing submission grappling competition scene. Students will learn the more complex techniques being used by champions at the highest levels of competition in Brazilian Jiu Jitsu.
The class immediately follows fundamentals and it is encouraged that advanced students attend both classes, so there is no warm up. There is a lesson period of normally a stand up technique and ground technique and then an extended free sparring session.
Sunday Class: A Sunday morning review of the techniques covered in the week's Fundamentals classes. Classes include a warm up, the instructor going back over the week's classes, a limited sparring session and then an open mat where students can ask questions of advanced, drill together, or open spar.
Brazilian Top Team (BTT)
The Brazilian Top Team (BTT) is an academy specialized in Brazilian Jiu Jitsu and mixed martial arts. It established in April 2000 by Murilo Bustamante, Ricardo Libório, Mário Sperry and Luis Roberto Duarte, former members of the Carlson Gracie Academy, to develop and create new training techniques for Brazilian Jiu Jitsu, submission grappling and mixed martial arts.[1]
BTT have produced some of the best Brazilian MMA fighters of all time. The team was compared to the Real Madrid soccer team around 2003 because of the number of elite fighters the team had.
In 2007 the Nogueira Brothers founded their own team taking some BTT fighters with them. It split the power of the team at this time but BTT kept building young fighters. Ricardo Arona and Paulo Filho followed their own way but returned often to visit and train with the team at the BTT headquarters in Rio de Janeiro.
Ricardo Liborio left the team in 2002, moving to the US to found American Top Team with some friends. Bustamante and Liborio kept their friendship since the beginning of the times in Carlson Gracie school until now.
The team is growing with affiliates in Brazil, Canada, US, Turkey, Russia, Australia and Thailand. One of the biggest Muay Thai camps in Thailand, Tiger Muay Thai, is affiliated with BTT to represent the team in Asia. It enables BTT fighters to learn Muay Thai from the roots of Thailand, and Thai fighters learn the BJJ and MMA from one of the best teams of all time.
Notable fighters
Vitor Belfort – former UFC Light-Heavyweight Champion; former competitor for UFC; former competitor for PRIDE FC; former competitor for Affliction
David Bielkheden – former competitor for UFC
Murilo Bustamante – former UFC middleweight champion, and PRIDE FC Welterweight Grand Prix finalist; former competitor for UFC and PRIDE FC
Patrick Côté – competitor for UFC
Paulo Filho – former competitor for PRIDE FC; former WEC Middleweight Champion; current competitor for DREAM
Allan Goes – former competitor for PRIDE FC; former competitor for UFC; former competitor for IFL
Ikuhisa Minowa – former competitor for PRIDE FC; DREAM Super Hulk (Open-Weight) Grand Prix champion
Antônio Rodrigo Nogueira – former PRIDE FC Heavyweight Champion; former Interim Heavyweight Champion for UFC
Antônio Rogério Nogueira – former competitor for PRIDE FC; former competitor for Affliction
Rousimar Palhares – former WSOF Welterweight Champion
Fernando Paulon – former competitor Cage Fight Live
Marcello Salazar – former competitor for IFL
Antônio Silva – former Heavyweight Champion for Elite XC; competitor for UFC; former competitor for Strikeforce
Mario Sperry – former competitor for PRIDE FC
Milton Vieira – competitor for UFC
Ricardo Arona – competitor for Pride
Henrique "Chocolate" Nogueira – competitor for Cage Rage ans Cage Warriors
Celso Rolim Junior – former competitor for TFC, MFC and XFG
Beginner? Begin with our Free Trial. Sign up below.
Let's Start Something new
Say Hello!